+86 0755-89302056

A Building, Huichuan Technical zone, No71, Xiangyin Road, Nanlian, Longgang Street, Longgang District, Shenzhen, Guangdong.
Copyright © Shenzhen SHINHOP Laser Equipment Co., Ltd. All rights reserved. |
粤ICP备15057663号
1000-1500w Handheld laser welding machine
Product advantage
●Support welding parameter save.
●CW, Adjust, Argon type, QCW(Pulse welding) Four welding types.
●Setting wire feeder's digital parameter in monitor.
●The language include Chinese, English, Korean, Japanese, Russian.
●The system real-time monitoring condition at operation : Laser source, Water chiller, Control board.
●Perfect substitute argon welding and electric welding in thin metal material welding area. Like stainless steel, carbon steel, aluminum and etc.
●Light weight, Small size, Ergonomic design for handling comfort.
●Safety lock touch for output laser.
●Easy operation, low requirements for operator.
●Strong Anti-jamming.
●The entire seal structure. Internal water and gas route.
●Adopt independent R&D control system.
●Strong anti-jamming, configuration 500W-2000W laser source.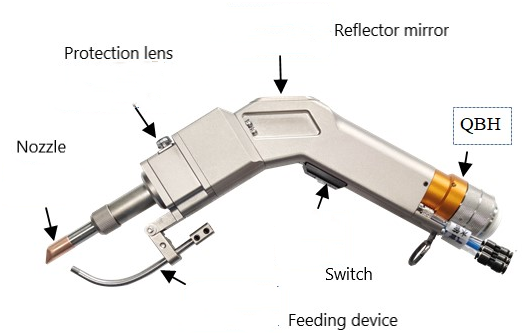 Welding head with wobble
Wire feeder
1.Technical Parameter
QBH welding head + system
Technical Parameter

Model

HPHL-1500

Laser power

≥1500W

Focal length

150/200

Collimate focus

60/80

Interface type

QBH

Accessible wave range

1064

Net weight

0.8kg

Light source diameter(mm)

1.0、2.0、3.0(Option)

Usable laser source

All of laser source

Control board

HZ-039A-10

System

M-V6 .02 V6.04

Driver

40*105-DC24V Second Version
2.

Depth of fusion
| | | | |
| --- | --- | --- | --- |
| NO | Material | Laser powre | Max fusion depth(mm) |
| 1 | Sus | 500 | 2 |
| 2 | Sus | 1000 | 3 |
| 3 | Sus | 1500 | 5 |
| 4 | Cs | 500 | 2 |
| 5 | Cs | 1000 | 3 |
| 6 | Cs | 1500 | 4.9 |
| 7 | Al | 500 | 0.8 |
| 8 | Al | 1000 | 3 |
| 9 | Al | 1500 | 4 |
Corresponding parameter set not found, please add it in property template of background
暂未实现,敬请期待
Tel:+86 0755-89302056
+86 0755-85200585
Address:A Building, Huichuan Technical zone, No71, Xiangyin Road, Nanlian, Longgang Street, Longgang District, Shenzhen, Guangdong